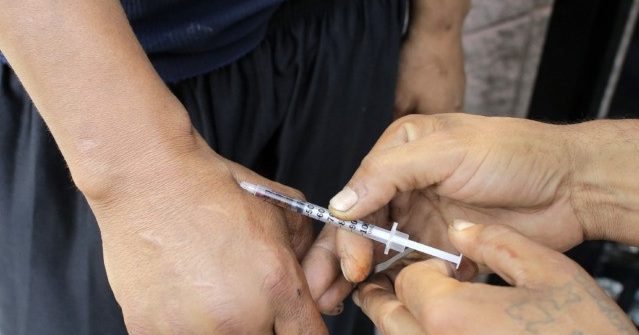 "We came here to do one thing, and God blessed us with another," Rivieccio said of the event, adding that "There are all types of craziness in this world. It starts with one person helping another and blossoms from that."
U.S. Army veteran and volunteer John Rourke, said he was shocked at the conditions in the Baltimore neighborhood.
"I didn't know that a city in the United States could be this bad. I've seen cities in Iraq cleaner than here. Cities shouldn't be this bad," he told the Washington Post.
On July 29, Breitbart News reported that Trump supporter and activist Scott Presler was organizing a "trash clean up" in the city of Baltimore, following the president's tweets criticizing Rep. Elijah Cummings' (D-MD) "filthy" district.
"President Trump has brought attention to Baltimore and how the city needs help. So, instead of just tweeting or complaining about the situation, we are taking action to actually clean up the city," Presler told Breitbart News.
"Quite honestly, I was willing to come to Baltimore, alone, to pick up trash," he commented. "I had no idea I would have received such an overwhelming response from the community."
On August 5, the day of the event, 170 volunteers picked up 12 tons of trash.
On Twitter Thursday, Presler called attention to the life-saving efforts of the trash pick up volunteers in Baltimore this week.
I'm in tears.

Today, a volunteer trash cleanup crew in Baltimore saved the lives of 2 men overdosing on opioids.https://t.co/irPTIbKgtl

— #ThePersistence (@ScottPresler) August 15, 2019
"I'm in tears," he wrote. "Today, a volunteer trash cleanup crew in Baltimore saved the lives of 2 men overdosing on opioids."