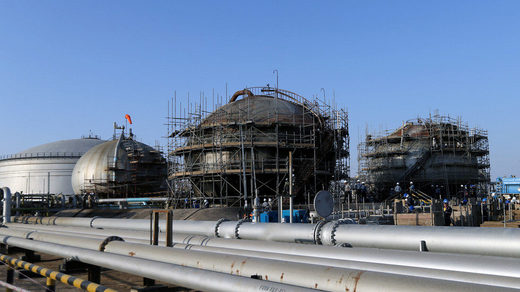 © Reuters / Hamad l Mohammed
Workers are seen at the damaged site of Saudi Aramco oil facility in Abqaiq, Saudi Arabia on September 20, 2019.
Yemen's Houthi rebels have announced a halt on strikes against Saudi Arabia, adding that they expect reciprocal steps from Riyadh. The ceasefire offer comes days after a major attack on Saudi oil refineries claimed by the Houthis.
The televised announcement was made on Friday by Mahdi al-Mashat, head of the Houthi political council in Sana'a. It comes as the Saudi-led coalition launched a massive operation against "legitimate military targets" north of the port of Hodeidah, in southwestern Yemen.
"I call on all parties from different sides of the war to engage seriously in genuine negotiations that can lead to a comprehensive national reconciliation that does not exclude anyone," said Mashat. If the Saudis ignore the ceasefire offer and continue bombing, the group reserves its "right to respond," he warned.
This is not the first instance of Houthis making a ceasefire gesture to try and stop the Saudi bombing campaign – but this time they appear to have some added leverage. The offer comes just a week after a strike on oil processing facilities in Abqaiq and Khurais halved Saudi Arabian production and spiked global oil prices by nearly 20 percent.
The Houthis claimed responsibility for the strike, which demonstrated failure of Saudi Arabia's US-made air defenses, but Riyadh and Washington chose to blame Iran for the attack instead.
No proof of Tehran's involvement in the launch of drones and missiles has so far been provided, with Saudi Arabia only identifying the source of the attack as somewhere in the "north." Iran has denied any involvement in the attack.
Meanwhile, the Houthis also capitalized on the attack's outcome by promptly threatening another member of the Saud-led coalition, the UAE. Earlier this week, the rebels claimed that they've picked dozens of Emirati targets that would be attacked by drones unless Abu Dhabi ceases its participation in the Yemen war.
Conflict has ravaged the Arabian peninsula country since 2015, when a coalition led by Saudi Arabia and the UAE invaded Yemen trying to reinstall the ousted pro-Saudi President Abdrabbuh Mansour Hadi. While they have been unable to defeat the Houthis despite their overwhelming advantage in numbers and weaponry, the war has taken a heavy toll on the people of Yemen. Tens of thousands have been killed in the conflict, while millions have been deprived of the very basic healthcare, food and clean water, with starvation and disease rampant.
Comment:
But the Saudis still insist on
blaming Iran
.
The kingdom has been holding talks with its "allies and friends" to decide what to do in the aftermath of the attack, FM Adel al-Jubeir said during a press conference on Saturday.

While Yemen's Houthi rebels have claimed responsibility for the attack, Riyadh has refused to believe that they have such capability. Al-Jubeir said they are "certain that the attacks did not come from Yemen but from the north."

The Aramco attacks were undertaken with Iranian weapons and for this reason we hold Iran accountable for them.
Which only confirms Zarif's point, above.
RT reports: Tehran is ready for "any scenario," and remains determined to fight back "until the full destruction of any aggressor," IRGC commander, Major General Hossein Salami, told reporters at a news conference on Saturday. "Whoever wants their land to become the main battlefield, go ahead," he said. … Salami vowed to "take action" against all foreign drones violating the nation's borders. "If anyone crosses our borders, we will hit them," he stated.
UPDATE 22nd September 00:55 CET:
RFE/RL reports on Saudi Arabia's responce:
Riyadh has taken a "wait-and-see" response to the announcement by Huthi militants in Yemen that they are halting all drone and missile attacks against Saudi Arabia.

"We judge other parties by their deeds, actions and not by their words, so we will see," Saudi Foreign Minister Adel al-Jubeir said after the surprise announcement by the Iran-backed rebels.

Iran denied involvement and warned the United States that any attack would lead to an "all-out war."

U.S. media had earlier reported that the Pentagon was set to present a wide range of military options to President Donald Trump on September 20.

The reports said the military would present Trump with a list of potential air-strike targets inside Iran, among other possible responses.

Washington has already announced it was imposing another round of sanctions on Iran, including on its central bank and its sovereign wealth fund, following the attack.

Iranian Foreign Minister Mohammad Javad Zarif said on September 21 that the fresh U.S. sanctions were a "sign of U.S. desperation."

"But this is dangerous and unacceptable as an attempt at blocking … the Iranian people's access to food and medicine," Zarif said, speaking after arriving in New York for the annual UN General Assembly next week.

In a related development, an Iranian state body in charge of cybersecurity denied reports that there had been a "successful" attack on some petrochemical and other companies in Iran.

"Based on our observations…there has not been a successful cyberattack on oil facilities and other critical infrastructure," said an official statement carried by IRNA.

NetBlocks, an organization that monitors Internet connectivity, earlier reported "intermittent disruptions" to some Internet services in Iran starting in the evening of September 20.