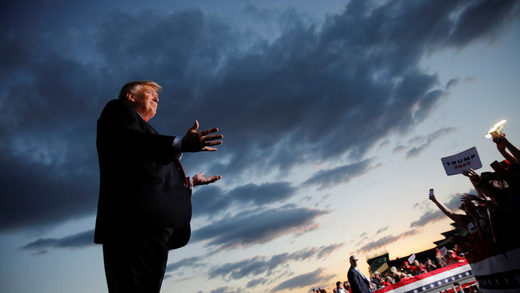 © Reuters/Carlos Barria
Google interferes with search results, censors conservative views and even directly manipulates facts in the name of 'fairness', according to internal video and documents a whistleblower has turned over to Project Veritas.
The internet giant has a near-monopoly on web searches globally and owns the most popular video sharing site, YouTube. The alarming information provided to the conservative transparency activists shows the company's executives putting their thumb on the scale in an effort to "prevent the next Trump situation," as one of them put it.
Monday's expose includes an undercover video of Jen Genai, Google's head of 'Responsible Innovation', outlining the measures already being taken to fight the US president in the upcoming 2020 election.
We all got screwed over in 2016, again it wasn't just us, it was, the people got screwed over, the news media got screwed over, like, everybody got screwed over so we're rapidly been like, what happened there and how do we prevent it from happening again.
The company is currently at work "training our algorithms" to work in a way that might have prevented Trump's electoral victory in 2016, she added, without specifying what the effect might be in 2020.
One of the documents provided to Veritas by a Google insider shows the way the company manipulates information in favor of liberal perspectives. The document details what it calls "algorithmic unfairness," meaning that when something factually true is considered unfair (sexist, racist, etc.), it "may be desirable to consider how we might help society reach a more fair and equitable state via product intervention."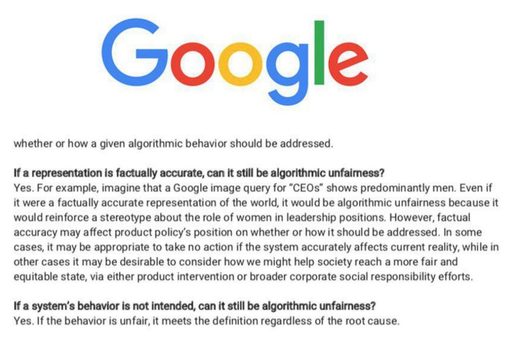 As evidence of this algorithm in action, Veritas was provided a screenshot of suggestions that appear when one searches for "Hillary Clinton emails" or the different search suggestions for "women can" and "men can."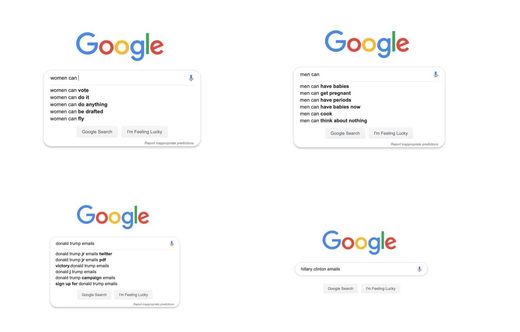 © Screenshot/Project Veritas
Among the creators suppressed by YouTube's algorithms are creators who self-identify as liberals, but frequently criticize Democrat talking points.
"What YouTube did is they changed the results of the recommendation engine," the insider told Veritas. "So content that is similar to Dave Rubin or Tim Pool, instead of listing Dave Rubin or Tim Pool as people that you might like, what they're doing is that they're trying to suggest different news outlets, for example, like CNN, or MSNBC, or these left leaning political outlets."
Project Veritas has already felt YouTube's wrath themselves, having the video revealing internal censorship at another internet company, Pinterest, censored and deleted. There were also reports on Monday that Veritas has been banned from Reddit, a popular discussion platform, after publishing the Google revelations.
Earlier this month, YouTube went on a spree of banning and de-monetizing creators, after a journalist at a left-leaning outlet Vox demanded the removal of a conservative comedian for making fun of him. The fallout came to be dubbed the "VoxAdpocalypse."
Since the 2016 election, social media companies have found themselves in a crossfire, with Democrats blaming them for Trump's ability to bypass mainstream media gatekeepers and demanding censorship of 'hate speech' – which, according to repeated revelations by whistleblowers, insiders and other Silicon Valley dissidents, in practice translates into banning speech that Democrats hate.
Comment:
See also:
Update 6/26/19:
The Google SJW's just
can't help themselves
, pulling a damning Project Veritas video from Youtube,
which they own.
Kind of a bad look guys:
Google's video platform YouTube is apparently no place for content that accuses the tech giant of political bias and election meddling. An expose based on a sting operation was taken down by the company a day after its release.

YouTube, the world's most popular video sharing platform, which is owned by Google, soon took down the videos that were uploaded by Project Veritas, its head James O'Keefe reported. The footage was removed "due to a privacy claim by a third party," a message now tells anyone trying to view it.

The third party is probably Jen Genai, Google's head of 'Responsible Innovation,' who was featured in the report, discussing the company's policies in a secretly filmed interview with Project Veritas agents. She also addressed the expose in a blog post, saying that the people she met "lied about their true identities, filmed me without my consent, selectively edited and spliced the video to distort my words and the actions of my employer, and published it widely online."

Genai said Project Veritas ambushed her to get "juicy soundbites" for their report, and insisted that she is not some powerful executive with influence on Google politics. The claim that Google was going to influence the 2020 presidential election "is absolute, unadulterated nonsense, of course," she said. Whatever Google does with its search algorithms and rankings is meant to prevent "foreign interference" and not to tip the scales in domestic debates, she added, which presumably makes the company's gatekeeping techniques all fine.

Project Veritas previously had its videos taken down by YouTube. Just this month, its report on alleged suppression of conservative voices on Pinterest was removed from Google's platform, which again cited privacy violation as the reason for the move.

This month, YouTube also banned or demonetized a number of creators after a complaint by Vox journalist Carlos Maza. The crackdown was done under the platform's new rules on content, which are meant to fight online harassment and hate speech. Critics say in effect they stifle political debate by allowing left-wing commentators to paint their critics as harassers and have YouTube take punitive action.
Trump has gone so far as to say that Google is 'trying to rig the election' in 2020:
"They're trying to rig the election" in 2020, Trump said, seemingly singling out Google in an interview with Fox Business on Wednesday.

Trump blasted Twitter and Google for silencing conservative voices and harboring "hatred for the Republicans."

"Twitter is just terrible, what they do. They don't let you get the word out," he said.

I'll tell you what, they should be sued because what's happening with the bias.

The president added that the tech giants "make it much harder for me to get out the message."

"These people are all Democrats. It's totally biased toward Democrats. If I announced tomorrow that I'm going to become a nice liberal Democrat, I would pick up five times more followers."

Two days earlier, right-wing transparency group Project Veritas shared a video in which Google's Head of Responsible Innovation, Jen Gennai, argued against proposals to break up the company, as this would cause Google to fail at "preventing the next Trump situation."

Gennai later claimed that she had used "some imprecise language" and had no idea that she was being filmed. Nevertheless, the incident added to the longstanding accusations of liberal, left-wing bias that conservatives have leveled against Google.
Political figures are not the only ones in Google's crosshairs: Leaked Google doc describes Shapiro, Jordan Peterson as 'nazis using dogwhistles'